(Originally posted November 30, 2014.
I didn't include it in the report, though I had mentioned it in a previous entry on my old blog, but my B goal was a PR, which before this race was 33:44.)
I need to work on my goal setting. (Right now, this is a good problem to have.)
Before I start, I do want to point out that unlike most races that stay on the same weekend each year, the Charlotte Checkers 5K moves around based on the Checkers schedule, since they want to have a Saturday night home game the same day as the race. Last year, the race was a week earlier.
Let me start with packet pick-up. I normally complain about races that don't have Thursday packet pick-up (not counting races with an all-day expo like Thunder Road), but in this case, they had a good reason. They did offer Wednesday night packet pick-up at Charlotte Running Company in Dilworth, but I was already in Raleigh by then. I got back into town early Friday afternoon, so I was able to go over to the Carolina Ale House and get my packet. Apparently they had some free appetizers and some drink specials, but free appetizers and drink specials were probably not what I needed on the day after Thanksgiving. I appreciate the sentiment though.
There was also race day packet pick-up. I wasn't paying too much attention to it, since I was already registered and had my packet, but it seemed like the lines for pick-up/registration on race day were pretty reasonable.
So, the packet itself. I gotta say, I was pretty impressed. When you sign up, they tell you that race entry includes a ticket to a Checkers game. If all they did was hand me a bib, a shirt, and a ticket, I would have been satisfied. The shirt was an actual tech tee. It's red, which is kind of funny. I started November with 0 red tech tees, and now I have 2. Of course, since the team's colors are red and black, and last year's shirt was gray, it was most likely going to be either red, black, or white.
In addition to the ticket and a 2014-2015 Checkers schedule, there were a bunch of coupons, a pack of Lance wheat and cheese crackers, Chapstick, and what is probably the most unusual item I've gotten from a race, a can of CVS Aftersun Cooling Foam. Yes, a foam that you can put on sunburn. I (unfortunately) know sunburn, and I had never heard of this stuff. I usually go with aloe gel. I hope I rarely (if ever) have to use it, but I guess it's good to have.
All of this stuff was in one of those drawstring bags that you can wear like a backpack.
So, the morning of the race, I woke up at 5:25 AM, showered, ate some whole wheat toast with peanut butter, used the bathroom, and took some store brand Imodium AD. (The first dose worked, I had no problems the rest of the day.) It was around 30 degrees according to my phone, but it was clear, so I knew there would be sun and it would warm up a bit, so I went with my Thunder Road Half red long-sleeved tech tee and long pants. I chose the red partly because it was my most recent race, and partly because that race went really, really, really well, but mostly because later that day, my beloved N.C. State Wolfpack would be taking on the evil University of North Carolina Tar Heels, so I wanted to wear red to support my alma mater. (And they won! 35-7! Go Wolfpack!)
I ended up parking in the parking deck at the Metropolitan, about a block away, because I seriously underestimated the size of the parking lot at Pearle Street Park. I could have gotten in there easily. Oh well, for a 5K, a little extra walking isn't too bad.
It did warm up a little, and by the time the race started, it was up to a balmy 34 degrees. Before this year, that would have been a record for my coldest race ever, but I've had two races this year that were colder.
Here's a shot of the starting line (which doubled as the finish line) right before the start.
I did move up a little after I took the picture. At 8:00 AM, we were off. Once again, I'm going to use my times and distances from my Garmin Forerunner 220.
The first mile had a slight uphill before we got to McDowell Street (which meant that there would be a slight downhill right before the end, sweet). Once we turned right on Elizabeth Avenue, we went down a decent hill. At the end of the first mile, I looked at my time, and decided my strategy would be to keep going as fast I could and hope I don't run out of gas.
Mile 1: 9:13
From Elizabeth Avenue, we turned right onto a section of the Little Sugar Creek Greenway, where I normally run for my long runs on the weekend. There were some ups and downs, but it was fairly flat.
We had a water stop in this section right around the 1.5 mile mark. I did grab a cup of water, just to be on the safe side. Unfortunately, they decided to just set up a bunch of cups on a table rather than have volunteers hand them to runners. So I had to actually stop to pick up a cup of water. I was hoping to try running through a water stop to see if I could do it, since it was only a 5K which I know I can finish without any extra water. Once I got the cup, I started running right away so I could try to drink the water while running. I succeeded in not choking or spilling the water, so that was successful. The only downside is that the trash bin was right next to the water stop, and I had already passed it by the time I finished my water. Luckily, I knew there were some trash cans later on along the greenway, so I ended up only carrying my empty cup for about a tenth of a mile.
My time wasn't quite as good, but I was still in good shape for a PR.
Mile 2: 9:37
Once we left the greenway, we turned right on to Morehead Street, which is pretty much just one long uphill. I kept going, constantly checking my watch and doing math in my head. I knew that they didn't do chip time, only gun time, so I didn't know my exact time. I was pretty sure a sub-30 minute time was in reach, though.
We turned right on to McDowell, then right on Baxter to take us back into the park for the finish.
Mile 3: 9:29
Last .15 miles: 1:07.5 (7:24/mi pace)
As I approached the finish line, I sped up. I also could see that I was really going to finish in less than 30 minutes.
I crossed the finish line, stopped my Garmin, and got a high five from Chubby, the Checkers' mascot.
Post race, there was water (but no Gatorade), bananas, some kind of jelly-like stuff, some granola bars, and the saltiest bagels I've ever tasted.
They had a few tablets set up where you could enter your bib number and get your results, which is probably easier (and definitely less wasteful) than repeatedly printing out the results as they come in. I entered my bib number, and got my official time: 29:37.0. Much better than I expected. For the record, my Garmin showed 3.15 miles in 29:27, for an average pace of 9:21/mile.
Here's the obligatory post race picture with my car key.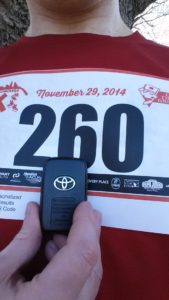 So, I set a record for my fastest mile (9:14, first mile), my fastest average pace for a run (9:34/mile), and I beat by previous 5K PR by over 4 minutes. Not bad for a race that I wasn't completely sure I'd be able to do until Tuesday.
There were 306 finishers, so it wasn't a huge race. That certainly helped during the first mile, it wasn't overly crowded. There were 461 finishers last year, so it was down a little, but I wonder if some of it was due to people traveling for Thanksgiving.
That evening, I went to see the Checkers play the Milwaukee Admirals. Here's my view.
The Checkers were wearing special Charlotte Hornets style jerseys for this game instead of their usual red and black. It was really weird. I thought it made them look like the San Jose Sharks, and in my opinion, that's not a good look.
The Checkers won, 5-4, and scored the winning goal with 1:30 left. So it was a very exciting game, although if you like good goaltending, this wasn't the game for you.
Overall, it was a good race that I ran way better than expected. Like I said at the beginning, I seem to have a problem setting goals, since I beat my A goal (32:30) by almost 3 minutes, but for now, it's a good problem to have.