Sometimes, it's a good thing when, for one reason or another, I don't get my race reports done immediately after the race. Not because I write a better report when I work on it for a few days, but because sometimes I need a few days to figure out exactly how I feel about a race. If I had cranked this out the day after the race, it would be very different.
As a general rule, I try to compare my performance to previous performances. (I certainly don't want to compare myself to others, considering I finished 83rd out of 99 in my age group.) This time, though, I don't think comparing this year to last year is a fair comparison. Last year, I ran what was very likely the best race of my life. This year, I ran a solid race, and was still almost 2 minutes faster than two years ago. So I didn't get a PR, but I'm OK with that.
Let's take a break from the navel gazing and talk about the race.
First, packet pickup. My biggest complaint the last two years was no Thursday packet pickup, and long lines at Friday packet pickup. Well, they finally fixed it. I couldn't make it out there, but they had Thursday packet pickup at Charlotte Running Company in Dilworth. Friday was the traditional packet pickup at the South Charlotte location of Charlotte Running Company. The parking still sucked, but there was only one person in front of me at 5:50 PM. I got my bib and my shirt.
They call it a "1/4 zip performance shirt." OK. I like it, it's different. It's gray, and I don't really have that many gray shirts. Granted, there haven't been many days this winter where I needed multiple layers, but it's cool.
They had a lot of safety pins available for the taking, but I probably have more than that in my house, so I declined.
I did something a little unusual after packet pickup. I got together with a bunch of geeks to play board games. Seriously. It's a group called the Charlotte Geeks, and they have a game night once a month or so. I also grabbed a calzone from a nearby restaurant and a chocolate milkshake from the coffeehouse that was hosting us. Maybe it wasn't the perfect pre-race evening, but it was fun and I didn't stay very long. I got home around 9 and got to bed around 10.
I had a mediocre night of sleep for a normal night, but it was decent for the night before a race. I got up, used the bathroom, showered, got dressed, ate two Chocolate Chip Clif Bars, drank some water, used the bathroom again, and left. It takes about 10 minutes to get to the race from my house, and I pulled in to the parking deck behind Earth Fare at around 6:50. It was about 41 degrees and there were just a few clouds. Cool enough that I decided to wear a long sleeve tech tee, but still warm enough for shorts, and I figured with the sun it would warm up a little.
I walked past the Finish Line, and then past the port-a-potties. Judging by the long lines, they probably should have gotten a few more.
This year, both races had the same starting line on Johnston Road, with the 4 Mile runners starting at 7:30, and the 10 Miler runners starting at 7:45.
Once again, I got a picture just before the 4 milers started.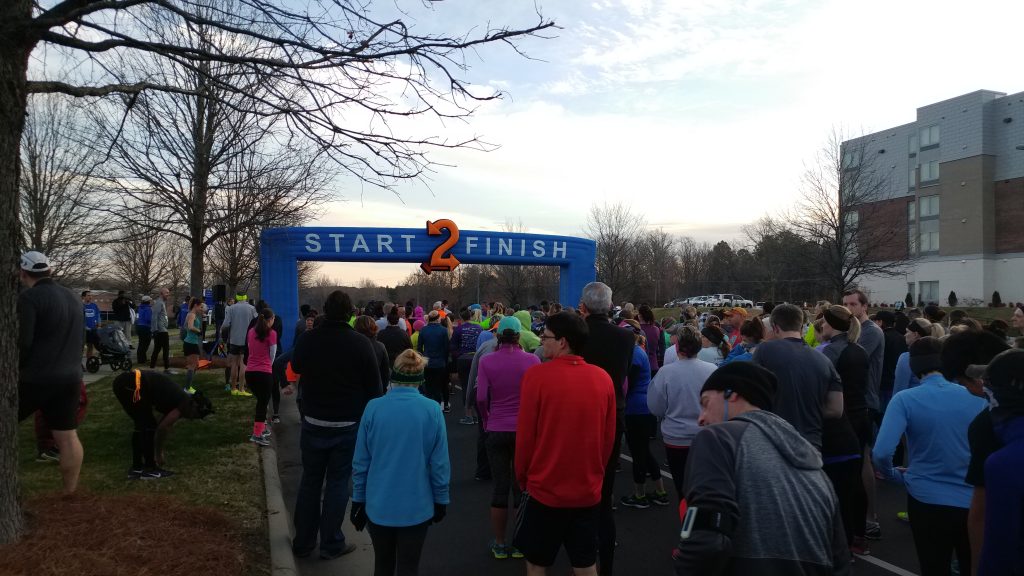 As I write this, I've never done a 4 mile race. Their course is basically the last 4 miles of the 10 mile course, which isn't easy, so they get props for difficulty and for racing a distance that I haven't.
The announcer said something like "Runners ready" (I can't remember exactly what he said, and he said the same thing before the 10 Miler), an air horn went off, and the 4 milers were gone. A few minutes later, we took to the street. This year, I remembered to take a picture before the start of my race.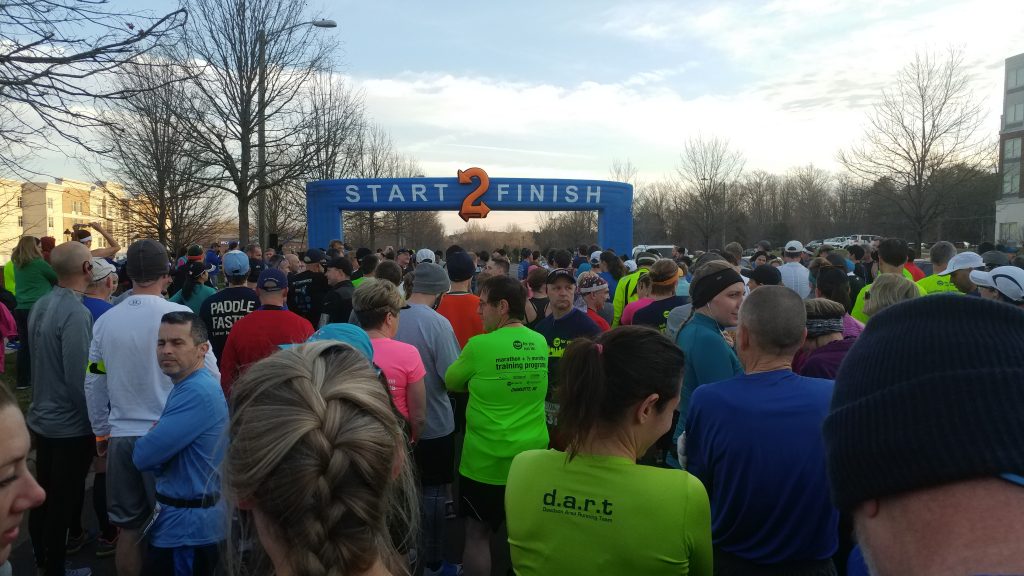 Once again, the announcer said, "Runners ready" or something like it, an air horn, and we were off.
Mile 1: 9:47
Mile 2: 9:12
Mile 3: 9:38
Mile 1 was uphill, Mile 2 was downhill, and Mile 3 was on the greenway, so it was pretty flat. Like last year, the first water stop was right at the start of the greenway around the 1.8 mile mark. Once again, the 2 mile sign was around 1.89 miles according to my Garmin, so apparently they didn't get any more accurate with the mile markers. To the race organizers' credit, even if I quibbled with their locations, all of the mile markers were clearly marked.
I felt pretty good at this point, and I knew my times for at least the first two miles were faster than last year.
Mile 4: 9:52
Mile 5: 9:55
We turned off the greenway and into a neighborhood. The neighborhood was hillier than I remember. Also, they moved up the water stop from right at the Mile 4 sign to around the 3.5 mile mark. At this point, I felt like I was putting in an awful lot of effort for a slower pace than I had hoped for. I just felt a little bit off.
Mile 6: 9:33
Mile 7: 9:42
We got back on the greenway, and I did recover a little bit. I knew this stretch of greenway like the back of my hand, and that probably helped.
They moved the next aid station up a little, to around 6.25 miles, so it was before we went under Johnston Road. This year, they offered Gatorade as well as water. Of course, I had just eaten a Gu, so I knew I'd be going with water. And of course, I was on the right side of the course, but the water was on the left. Annoying, but it didn't affect my time too much.
Mile 8: 9:53
This mile covered the end of the greenway portion, the last water stop around 7.75 miles (with a Hawaiian theme this year), and a slight climb along Elm Lane. Between the water, the climb, and the general feeling of being a little bit off, I slowed down a little.
Mile 9: 9:55
Yes, this is the mile with the really big hill. Once again, I managed to get all the way up the hill without walking, but I was definitely slower than last year.
Last 0.99: 8:59 (9:05/mile pace)
Considering that last year I measured 9.95 miles, a total of 9.99 miles is an improvement. Of course, there were no changes to the course, so either my Garmin got more accurate, or I got worse at running the tangents. But that's not the most notable thing about this stretch.
So after we got to the top of the hill, near the Mile 9 marker, we turned right, and we got on this street that is straight and flat. (It's actually net downhill, but it's so gradual you don't really notice.) Last year, I hit this stretch, took off, and ran what is still my fastest mile ever. This year, right around the 9.2 mile mark, I got a side stitch. I couldn't believe it. Not only has that never happened to me before in a race, I'm not sure it's ever happened while I was running.
I slowed down and walked for about 10 seconds while applying pressure. That seemed to fix it, and I was able to start running again. In spite of the break, I still finished with a faster pace for this "mile" than any of the previous ones. I was pretty annoyed though, that after running up this enormous hill without stopping to walk, I had to walk on the flat part of the course.
Anyway, I crossed the finish line, they announced my name, and I went off in search of post-race food and drink.
First, I got a cup of water right after the finish. Then I found Good Bottle Company, who decided to bring some local beer from Sycamore Brewing. They had an IPA, a blonde, and a lager. I went with a Sun Grown Lager. For a lager, it was pretty solid, and obviously, much better than Michelob Ultra.
(Fun fact: This is only the 3rd race I've run that offered a local beer afterward. The others were the 2014 OrthoCarolina 10K which had beer from NoDa Brewing but after a killer course, 76 degrees, and 8000% humidity, I was in no condition for beer, and the 2015 Raleigh City of Oaks Marathon which had beer from Lonerider Brewing, and I had a Shotgun Betty Hefeweizen, a beer I love under normal circumstances, so that particular post-race beer has a very strong case for Best Beer I've Ever Had.)
They also had a deal where you could pay $10 and get a post-race mimosa in a champagne flute with the race logo. I decided to pass. I have no use for a champagne flute. Also, I like my orange juice straight.
I finished drinking my beer while I waited in line for breakfast. Once again, Big View Diner brought pancakes and sausage. Aww, yeah. It's still the best post-race food I've ever had. They also had bananas and bagels cut in quarters, so I grabbed one of each. I washed it all down with some orange juice, straight, from Natalie's Juices.
I then found my co-worker who developed my training plans and serves as my unofficial coach. He and his wife both ran the race. I hung out with them for a bit while I recovered.
My car key made it to the finish line, so I stood in front of a brick structure in the parking lot where there's an ATM and took my post-race picture.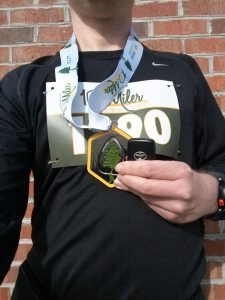 I held the phone a little farther away than normal when I took the picture, but I kind of like it, although if I had realized I was going to do that, I could have held the medal and key a little lower. You'd think I would be an expert at these pictures by now. I guess not. You can actually see my Garmin in this picture, which is kind of cool. Also, it's hard to see it in this picture, but the tree in the middle of the medal spins. It's not quite as cool as the spinning acorn on my City of Oaks Marathon medal, but it's still pretty nice for a 10 mile race.
So, my performance. It's kind of frustrating that I can't pin down one thing that caused me to not run the best race I think I'm capable of. (Unlike some other races where I know exactly what went wrong, like my ankle blowing up after 9.5 miles, or the terrible, no good, very bad decision to run up the 59th Street Bleeping Bridge.) It makes it tough to write a recap. (Not that writing is ever easy for me.) After a lot of thought (possibly too much thought), I guess the bottom line here is that I ran a good race when I know I wasn't quite 100%. I have to remind myself that not every race is going to be a PR. All I can do is go out there, do what I can with whatever hand I'm dealt, and try to enjoy it.
Vital Stats
Full Name of Race: Charlotte 10 Miler and 4 Mile Run
Location: Johnston Road near North Community House Road, Charlotte, NC
Date and Time of Race: February 14, 2017, 7:45 AM
Bib Number: 1290
Official Finishing Time: 1:36:24.0 chip time(9:38/mile), 1:36:38.5 gun time. 646th of 1134 Overall, 388th of 503 Men, 83rd of 99 in Age Group (Male 40-44)