(Originally posted January 18, 2016.)
I thought 2:14 was an aggressive goal. I finished in…2:10:43?!? I'm happy to be wrong.
I drove down to Charleston on Friday. It's right around a 3 hour drive from my house to the hotel.
It had been raining off and on all morning in Charlotte. I managed to get my bags into my trunk during a brief lull, but the rain really picked up as I headed south. It finally stopped raining maybe 10 miles outside of Charleston. I got to my hotel and checked in, then headed over to the expo. It was in a high school gym. It was probably a little bigger than the Raleigh City of Oaks expo, but a little smaller than the Thunder Road (which will apparently now be the Charlotte Marathon) expo.
They had some computers set up so you could look up your bib number in case you didn't have access to your e-mail and hadn't memorized your number. (I had both access to my e-mail and my memory, so I was good.) First, I picked up my bib. They had safety pins, which was good because I realized I didn't bring any with me. Then I picked up my goodie bag, and finally my shirt.
The bag is really nice. It's canvas, with a drawstring and shoulder straps so you can wear it like a backpack. In the bag, we got a couple of coupons for Dick's Sporting Goods, a map of the courses along with info on where to park before the race as well as some other miscellaneous info, and some brochures for some other upcoming races.
Here's the obligatory picture of the t-shirt.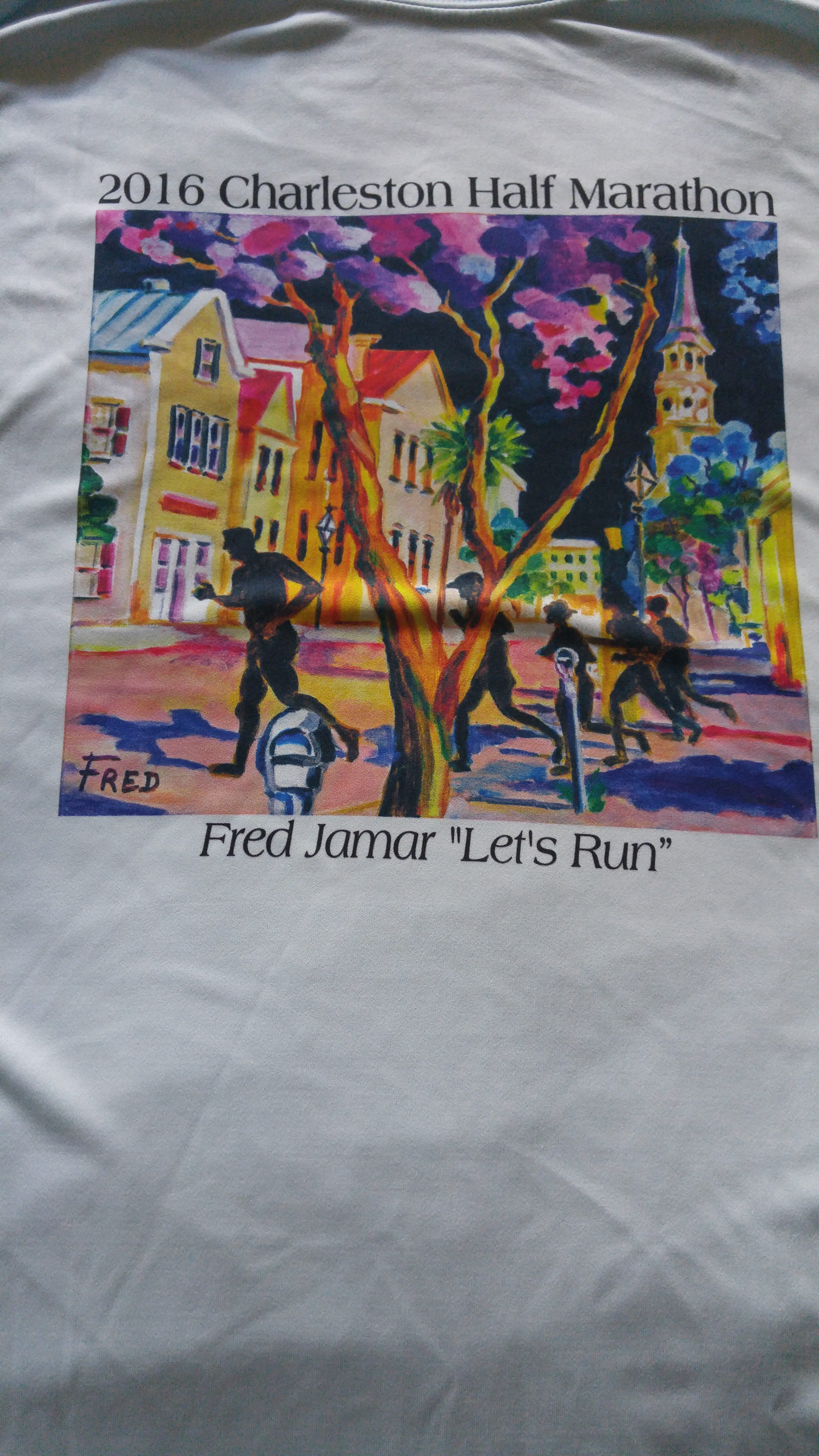 Sadly, it's not the elusive white t-shirt that I haven't seen since my first two races. It's actually a very light blue. But hey, it's a long sleeved tech tee, and it's a light color that's visible when it's dark out. Score. Oh, and that's a pretty cool design, it's based on a painting by a local Charleston artist. Also, I waited until I got home before taking the picture, so the shirt has a few extra wrinkles.
I did notice Gu on sale at the expo, so if I had forgotten to bring mine, I could have bought some. They had some shoes on sale, but alas, no wide widths for Brooks Adrenaline. Curse my wide feet!
After I left the expo, I stopped by CVS to pick up some band-aids. I realized at some point that I forgot to bring some nipple protection. I got away with an unprotected 14 mile run once, but I didn't want to push my luck. First, unlike on my 14 mile run, I would have a bib, and that might make things worse. Second, I would be wearing a white shirt, so if I did have issues, it would be painfully obvious.
I stopped off for dinner at, uh, Burger King. It was right next to the hotel, I was tired, and I was in a strange place and didn't have any better ideas. (Then again, considering my race performance, maybe I should try it again next time.) I ate my dinner and watched YouTube videos in spurts (the hotel wi-fi was shaky at best).
I went to bed around 10:15, planning to get up at 5:45. When I checked in, they said breakfast would be served downstairs starting at 6, so I figured that would give me time to shower, go downstairs, grab some food, then go back upstairs to brush my teeth, put on my bib, and use the bathroom.
I got downstairs at around 6:15, and breakfast wasn't ready. Hmm. OK. I waited for a couple of minutes, but nothing. Fine. I went back upstairs. Luckily, I had a backup plan. I had brought a box of Clif bars with me. I didn't know exactly what they'd have available for breakfast, or what the quality would be like. (Out of all the hotels that partnered with the Charleston Marathon, I was staying in the one with the 2nd cheapest rate. As it turns out, on Sunday morning I had breakfast, and it was nothing special, but it was OK. Also, besides the Saturday breakfast snafu and the fact that my room only had a view of the Burger King and its parking lot, I can't complain about my hotel.)
I ate two Clif bars, then did the brush teeth-attach bib-use bathroom thing. I gathered my stuff, and drove over to the recommended parking lot. I pulled in to the space, and realized I was missing my sunscreen and my watch. Luckily, it was 7 AM, so I had plenty of time to go back to the hotel. In retrospect, I'm glad I forgot my watch, because I'm not 100% sure I would have gone back for just the sunscreen. And I would have regretted that decision very much, because for about 75% of the course, there was absolutely no shade.
After a quick trip to the hotel, I put on my sunscreen and my watch. It was about 50 degrees, but there were almost no clouds, so I figured it would warm up during the race. I would have preferred it to be overcast, but that's pretty close to perfect weather. (And after running the last 9 miles of City of Oaks in the rain, I certainly won't complain.)
The Mayor of Charleston said a few words before the start, then two high school students sang the National Anthem. (One of them clearly had microphone issues, but otherwise, they did well.) That was a recurring theme with the entertainment, since the proceeds from the race went to the Youth Endowment for the Arts, so it was all done by kids. Marching bands, a concert band, a group of kids playing keyboards (OK, that one was kind of odd).
And, at exactly 8:00, the race began. I was pretty far back, so it took about 2 minutes for me to get to the starting line.
Mile 1-5: 10:04, 9:50, 10:11, 10:17, 9:57.
At the very beginning, it was really crowded, and I could see my pace hovering around 11:00. I pushed ahead as the crowd thinned out a little bit. Mile 2 was a little bit faster because I saw a woman in a Gronkowski jersey. Of course, my first instinct, as a bitter Jets fan, was to pass her. Unfortunately, she was considerably faster than me. Luckily, I realized this before I used up all my energy trying in vain to keep up. I muttered a few choice words under my breath and let her go.
The first 3 miles were along the river, and it was really pretty. Then we turned on to King Street to run through downtown, which was also really cool. The downtown part was pretty much the only stretch where we got shade.
There were aid stations just before 2 miles, and at around 3.75 miles. All of the aid stations had water and Gatorade, but I ended up sticking with water the whole time. I took my Gu at the 3.75 mile aid station. I prefer to wait until around the 4 mile mark, but I have to have water to wash it down, and I didn't want to wait for the next aid station.
By mile 5, I had settled in to a pretty good pace, and I felt good.
Mile 6-10: 10:09, 9:52, 10:24, 10:01, 9:49.
Aid stations were at 5.5, 7.9, and 9.7 miles. I took my second Gu at 7.9, so that's why that mile took 10:24. (When your slowest mile of the day is 9 seconds faster than the average pace of your previous PR, you're having a good day.)
By this point, we had gotten to an industrial area. It wasn't much to look at. I was able to stay focused though. I kept watching my average pace, wondering if I could keep it up.
Mile 10-13.1: 9:24, 9:41, 9:18. (8:08/mile pace for last .22 miles)
The answer is yes, I could keep it up. Aid stations were at 11.25 and somewhere in the last mile, but I skipped that one, because at that point, I knew it wouldn't help, and it would just slow me down.
We ran through the naval yards, which was slightly more scenic, and even got back near the river, through the accurately but not creatively named Riverfront Park, before heading back inland to North Charleston and the finish.
My legs really started to feel tired as I pushed myself toward the end, but I managed to keep going. There were 4 turns right near the end, but it felt like about 20. They called my name as I crossed the finish line, and when I stopped my watch, it said 2:10:46.
They gave me a medal, took the timing chip that was attached to my bib, and gave me a bottle of water.
They had some laptops set up with a piece of paper covering most of the keyboard telling you to use the keypad to enter your bib number, and don't touch anything else. (I was amused, but I followed instructions.) I put my bib number in and got my official time, 2:10:43. Woohoo!
I made sure I still had my car key, and took my usual picture.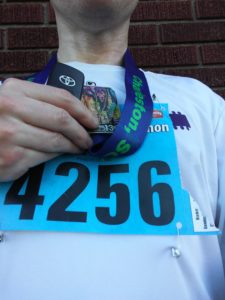 You can see where they tore off the timing chip, but left a little bit behind. It's hard to see in that picture, but yes, that's the same painting on the medal that's on the t-shirt.
I grabbed some Gatorade, an apple, and wandered over to the shrimp and grits. Yes, they give you shrimp and grits at the finish. It was quite tasty.
They had beer from Sam Adams and from Traveler Beer. I'm never going to complain about beer that doesn't come from AB InBev (Bud Light, Michelob Ultra), but I thought it was odd that they had beer from Boston and Burlington, Vermont. Traveler had a grapefruit shandy, which, uh, no, but Sam Adams Boston Lager was fine. My usual complaint about Sam Adams is that there are better beers you can get for the same price, but this one was free, so my complaint was invalidated.
I also got a mimosa. As a general rule, I prefer my orange juice straight, but I figured any race can serve beer afterward, when else will I get a post-race mimosa?
This was the first time I've done a point to point race. Every other race I've done has had the start and finish line pretty close together, if not on the exact same spot. So after the race, they had shuttle buses taking people back to the parking lots near the starting line. As many things as I worry about pre-race, I'd much rather not worry about riding a shuttle to the starting line, so I'd much rather do a post-race shuttle.
So, as you can imagine, I'm really happy with my run. I ran the race I wanted to, with my only walk breaks at the aid stations. I did it faster than I expected, and I still had enough left for a kick at the end.
If there's one thing I could nit-pick, I ended up at 13.22 miles. Maybe I could have done a better job on the tangents. Even with the extra mileage, it was a PR by over 7 minutes. (For comparison, I ended up with 13.16 miles at my last half, Charlotte RaceFest.) So yeah, that's definitely nit-picking.
One other thing I noticed, when I looked at Garmin Connect, I had a new record for 10K, 1:00:21. I'm pretty sure that's the last 10K of the race. Wow. (Of course, now I want to sign up for an actual 10K race and see if I can get under an hour.)
Overall, I enjoyed the race. It helped that it was easily the flattest course I've done (not counting a few 5Ks). Charleston is a pretty neat city. I got to see a little more of it Saturday afternoon. This race is definitely on my radar for next year. I don't know if I'd want to do the full marathon, since that would put my longest long run right around Christmas, but I'd consider doing the half again. As long as I can still get some decent miles in around the holidays, it would be a good race to kick off the new year.