I guess I should start at the end.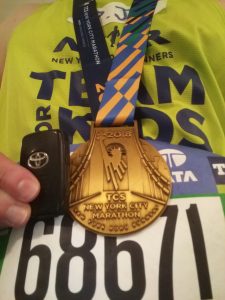 5:52:03. I can't say I'm happy with that time, but I'm relieved. I finished, which is way better than last year. I had a blast along the way (and before and after the race as well). Of course, I'll have to do a full race report, and that will take some time.
I think I had some good runs in the last week before the race, but right now, it's kind of a blur. Sometimes, having to jot down comments for my coach after each run comes in handy.
Weight Check: My last official weigh-in before the race (Friday before my run) was 166.6 pounds, up 1.3 from the previous weigh-in. Not great, although that does include some carb loading.
This Week's Runs

| Day | Scheduled | Total Miles |
| --- | --- | --- |
| Monday | 4 miles easy | 4.01 |
| Tuesday | 3 miles easy | 3.11 |
| Wednesday | 3 miles easy | 3.11 |
| Friday | 2 miles easy | 2.01 |
| Sunday | 2018 New York City Marathon | 26.2 |
Total: 38.44 miles
Monday was 46 degrees and sunny. Excellent weather. My legs felt fine. I kept a pretty consistent pace on the first 3 miles. There may have been a GPS glitch in the middle of mile 4, since I don't remember slowing down for anything, and I didn't really speed up until near the end. When the only thing I can think of to talk about is GPS strangeness, that's a sign that it was a pretty good run.
On Tuesday, it was cool (39 degrees) but pleasant. My legs felt OK. I slowed down a little on mile 3 for some reason, but recovered at the end and finished strong.
Wednesday was really nice weather. 46 degrees again. My legs still felt OK. I didn't push that hard but was still able to run really well on mile 2, and while mile 3 was a hair slower, it was still a good pace, and I finished strong
On Friday, I had my last run before the marathon. Weather wasn't great, 64 degrees, and damp from some overnight rain, but my legs were fine. I kept the effort easy, but still kept a pretty decent pace. Also, running only 2 miles was really weird.
Sunday was The Marathon. Full recap is coming soon. New York City is the greatest city in the world (but I admit I'm probably biased). I do want to mention that the weather was amazing, 52 degrees and sunny.
I haven't run since the race, and I probably won't run again until next week. That means my next weekly recap will be a little short. Of course, that should (in theory) give me time to write a recap for October. I will say that my legs are just about back to normal. They feel a little off, but there's no more pain. (I still don't feel ready for running, though.)