Well, it was tough, but there were some bright spots, and I made it through to the end.
That's a good summary of the 2018 New York City Marathon, and of the entire year of 2018.
I only had one goal for 2018.
Goal 1: Finish the 2018 New York City Marathon.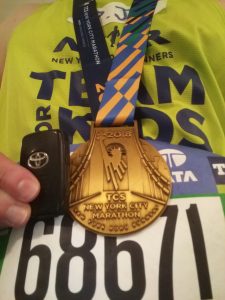 Yup.
I had to go through a charity, I did a poor job of fundraising (to be fair, there were a few stretches where I wasn't 100% sure I'd be able to run the race, and it's even more difficult to ask for donations when you don't even know if you'll be running), my training went really badly, and my lack of mileage led to a lot of walking after mile 18 or so.
But I finished, and after 2017, that's an accomplishment.
I didn't set a mileage goal, which is good, because I probably would have set it higher than 1,150.08 miles. Considering, well, everything, I'm glad I was able to get that many miles, even if it's my lowest total since 2014.
I didn't set a goal for a number of races, which is good, because I probably would have set it higher than 2. Here are the recaps (both of them):
2018 Teal Diva 5K
2018 New York City Marathon
Weight Check: I forgot to do a weigh in on December 31, so I have to go with my last official weigh in of 2018, from December 30, 168.5. I started the year at 166.3. So, uh, a gain of 2.2 pounds. Not ideal.
Highlights
I ran in Portland again. The weather was glorious (the beer was pretty good, too), and I had some really good runs.
The Teal Diva 5K raised a bunch of money for ovarian cancer, and, considering everything, I ran pretty well.
I recovered from whatever the hell was wrong with me in late August/early September (more on that under Lowlights).
I finally succeeded in mostly eliminating Mountain Dew from my life. I've switched to no/low calorie sodas, primarily Coke Cherry Zero, and occasionally Diet Mountain Dew or regular Coke Zero Sugar. I don't know how much it helped (and I probably should still be drinking water instead), but I'd say it's a small step in the right direction.
Lowlights
How much time have you got?
Like I mentioned earlier, my fundraising efforts did not go well.
I started the year with a hernia. I had to defer the 2018 Charleston Half Marathon to 2019. I had to reduce my mileage before my surgery, then I couldn't run at all for a full month.
Related to my hernia, but not directly related to running. I saw my nephews 3 days after my surgery, and my younger nephew, about 1 and half years old at the time, ran over to me, looked up, and put his arms up because he wanted me to pick him up. Since I wasn't allowed to lift anything over 20 pounds at that point, it broke my heart. (He forgave me pretty quickly, though.)
Summer was absolutely brutal, like no other summer I've ever tried to run through. I read a stat that there were 90 days where the temperature never dropped below 70, an all time record. (And it wasn't a dry heat either.)
In late August, I started getting severe fatigue after 10-12 miles, which is not normal. I missed an entire week of training. I had to get my heart checked out. I went to a sports doctor. Nobody could figure out exactly what was wrong. But whatever it was, the rest seemed to help a little bit. Still, it caused me to miss a significant chunk of my training, leading me to be undertrained headed into my goal race.
And then there was the New York City Marathon.
(For the record, that's the 3rd and final time I'm using that sentence in a Yearly Wrap-Up. It's meant something different each time.)
I didn't have the mileage in training that I wanted. To be honest, I didn't really have the race I wanted. The last, oh, 8+ miles of the race were pretty brutal. The battery for my Garmin Forerunner 220 ran out after 21.85 miles. However, it's still a race through the city where I was born, the greatest city in the world (I know, I'm biased). I still loved it. And I still think my last minute decision to put my name on my shirt was a great decision. The crowds are already pretty great when they don't know your name. Throw in a whole bunch of "Go P.J.!" cheers from people other than my parents, and you've got an even more amazing experience. I still got to run through Brooklyn. I still got to turn on to 1st Avenue. I still got to see the sign that says "Welcome To The Bronx." And I got to cross the finish line.
There's not much else to say. It was a tough year, and I'm relieved that I got through it.