I didn't realize it until afterward, but this was my 25th race.
It's been a while since I had a race where I did a lot better than I expected. Granted, I went in to this race with zero expectations. Part of it was because I've never raced an 8K before, and part of it was because I heard that it would attract a really big crowd, big enough to potentially slow me down. Still, I was hoping I could finish somewhere in the 50 minute range. I ended up doing better than that.
While I was very pleased with my performance, I have to say, I wasn't as pleased with the race. In my previous 24 races, I've had some minor quibbles here and there, usually with the time or location of packet pickup being somewhat inconvenient, but really, nothing major to complain about. But this race, while there was nothing earth-shattering, there were a bunch of little things that added up.
First, some background on this race. My sister's best friend lives in Charlotte, and she invited my sister's family, my parents, one of her nephews, and me for Thanksgiving. I moved to Charlotte 20 years ago, and this was the first time I was here on Thanksgiving day, because every other year I traveled to either my parents' house or my sister's. My sister's friend came up with the idea of doing the Turkey Trot, since they've got an 8K and a 5K, and lots of people walk the 5K. My brother-in-law and I signed up for the 8K, and everyone else signed up for the 5K, and planned to walk it. My sister probably could have run the 5K, but she was also pushing a stroller with both my nephews in it, so she walked it too.
I've never done a Turkey Trot before, mainly because of travel, although the last few years I've still managed to get a run in on Thanksgiving morning.
Normally I'd start with packet pickup, but my sister's friend volunteered to go pick up everybody's stuff, so I can't really comment, other than to commend them for having packet pickup on both Tuesday and Wednesday. Tuesday packet pickup for a Thursday race is like Thursday packet pickup for a Saturday race, and I always appreciate that, so at least on this front, they got it right.
Everybody got a t-shirt, but we had the option during sign-up to pay extra for a tech t-shirt. I could use another long sleeved tech tee, so I spent a little more and got one.
The lighting is a little off, but it's actually dark gray. The important thing is that it's not another blue shirt. I'll take it.
They also gave out lip balm, mints, and coupons for 10% off at Dick's Sporting Goods, since that's where the packet pickup was. Mints were kind of a strange giveaway, and I gave mine to somebody else, because I can't stand the taste of mint. Lip balm was also unusual, but potentially useful. They gave out safety pins, but somehow we didn't have enough pins for everybody. I volunteered to re-use some safety pins from an old bib.
The morning of the race, I got up, used the bathroom, showered, ate a Clif bar, brushed my teeth, and used the bathroom again. We lucked out on the weather, it was in the low 50s, so I wore a short sleeved t-shirt and shorts. My parents were staying with me, so I drove them to the race. There was lots of parking, since the start and finish were on the edge of Southpark Mall.
The 8K started at 9 AM, but the 5K didn't start until 9:30. We got there around 8:10, and my parents stayed in the car for a bit while I wandered over to the starting area. (Side note: I brought a spare car key that I gave to my parents so they could lock up the car when they were ready. I could have just left my car key with them, but then I wouldn't be able to take a picture with my car key after the race. Priorities.)
I waited in the middle of Morrison Boulevard for the race to start. There were a few port-a-potties near the start, but probably not enough, because the lines were pretty long. I actually thought about using one before the race, but I realized with the lines I might miss the start, so I decided to take my chances. (It turns out I was OK during the race.)
I saw two people wearing official 2016 New York City Marathon shirts. I didn't wear mine, because it's long sleeved, and like I mentioned earlier, it was warm enough that I wanted to go with short sleeves. Still, it was good to know that I wasn't the only one who went from NYC to this race.
I took a picture of the starting line a few minute before the race started.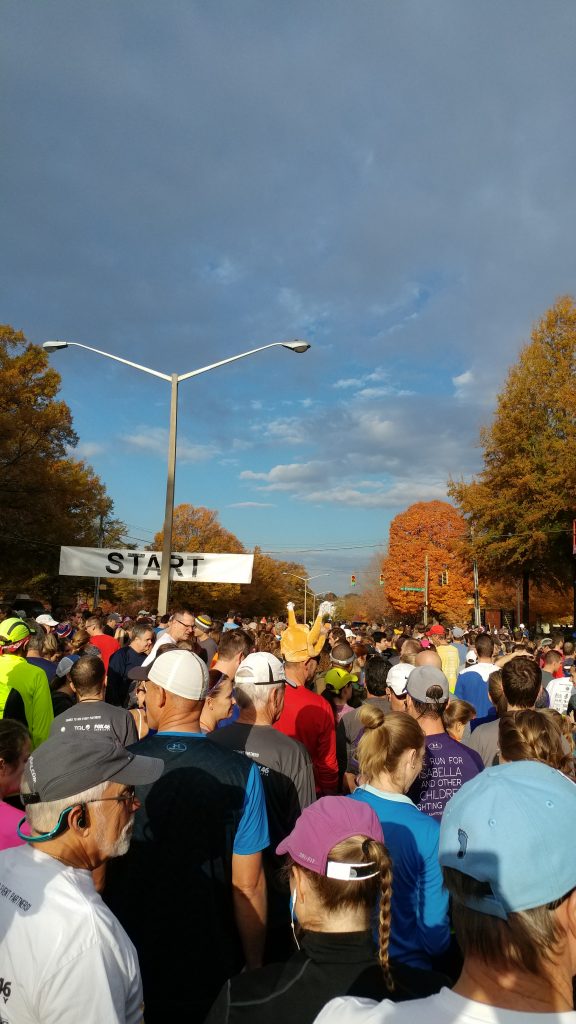 Yeah, a guy with a turkey hat. 'Tis the season.
At 8:59, a gun went off to start the race. I didn't hear any countdown, and pretty much everybody around me was surprised, but we started moving towards the starting line.
Mile 1: 9:57
Like I said at the beginning, I was worried about the crowd slowing me down. I noticed on a couple of the turns early on it got crowded, at least if you were trying to take the inside of the turn like I was. Later the crowds thinned out enough that I had no issues, it was just the turns on the first mile where I had to slow down a bit.
Near the end of this mile, I noticed one turn that my Garmin and I disagreed about.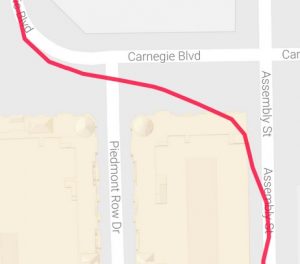 I stayed on the streets, thank you very much. I found a few other turns where it looks like I cut the corner a little, but nothing quite as egregious as this. I think this turn is the main reason why my Garmin said I only ran 4.88 miles total, instead of 4.97.
This mile had a few rolling hills. Nothing worse than my neighborhood, though.
I didn't see the 1 Mile marker, but my brother-in-law did.
Mile 2: 9:36
There were still some hills, but with the crowds thinned out a bit, I was able to speed up a little. My Garmin said this mile was all downhill, but again, considering the picture above, I take that with several grains of salt. I'd be willing to buy that there was more downhill than uphill, though, and that would explain my time for this mile.
Again, I didn't see a marker for 2 Miles, but my brother-in-law did.
Mile 3: 10:01
This mile had more uphill, so I slowed down, but I hung in there. There were two water stops early, although the second stop was sponsored by a church and most likely unofficial. I skipped both of them. I wasn't really all that thirsty, and I felt like it would slow me down more than it would help.
Also during this stretch, someone was giving out mimosas and (I think) something with apple cider and alcohol in their driveway. I have to admit, I considered it, but ultimately declined. Kudos to the people giving them out, though.
At 2.87 miles, I saw the 3 Mile marker. Uh, OK.
Mile 4: 9:46
The course flattened out a bit, and I rallied. I felt pretty good.
Last…uh, 0.88?: 7:47.3, 8:48/mile pace
I didn't see the Mile 4 marker until around 4.06 miles. Also, there was one final water stop shortly after the mile marker, but I skipped it. I really poured it on through here. It stayed pretty flat, which helped. I passed several people along the way.
I crossed the finish line, and my Garmin said 47:07, with a distance of 4.88 miles.
I got my medal and went looking for food and water. It was really chaotic once I got past where they were giving out medals. I completely missed the tables with the water and food. After wandering around for 5 minutes, on my second loop I finally found the tables. The first 3 were empty, then I found some cups of water on the 4th. There were no volunteers that I could see. I then got a granola bar that was literally cut in half. They weren't exactly huge bars to begin with, so cutting them in half just looked cheap. I had to check a few to figure out what kind of bar it was, chocolate chip. I also got an orange slice.
I stopped to take my usual picture with my car key. I got it on the first try, so there's that.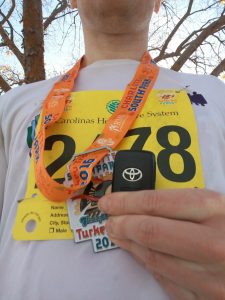 By the time I got back to the finish line, my brother-in-law had already finished. He sent me a text asking me about where the water and food were, and I tried to describe it as well as I could. He eventually found it. We ended up meeting near the finish line on the 5K side – the 8K finished on the left side, the 5K on the right – and waited for everybody else.
Interestingly, as I was standing there, they had started handing out awards, and I was surprised to hear my co-worker's wife had won her age group. (Actually, initially, I was like, "Wait, did I hear that right?" Then I checked the unofficial results on my phone, and yeah, she won her age group.) I sent a quick congratulatory text.
(Edit 2/19/2017: I just wanted to clarify that my co-worker's wife is really fast, and I'd never be surprised if she finished Top 3 in her age group. My surprise wasn't with her performance, I was just surprised that she ran the race, since my co-worker hadn't mentioned she'd be there.)
My sister finished first, pushing my nephews in a stroller. (I'm pretty impressed by that, even if she walked most of it.) My brother-in-law followed them to the finish. My parents showed up a few minutes later, and I walked the finish with them.
By the time my parents finished, they had run out of water. That was disappointing, especially considering it wasn't really that warm.
Also, you may have noticed, I haven't mentioned my official time. That's because I'm not 100% sure what it is. My gun time showed up on the website by the time I got home from the race, and it was 47:33. OK, that sounds reasonable. Then I waited to see when they'd post my chip time. They posted 47:28…on Monday, 4 days after the race. First of all, 4 days? Really? Second, I'm pretty sure it took me more than 5 seconds to get to the starting line. In addition, my Garmin said 47:07. Even if I didn't start it right at the starting line, over 20 seconds difference is a lot. For now, I guess I just have to accept 47:28, but if something changes, I'll come back and update this.
Between the surprise start, the timing, the chaotic finishing area, the half granola bars, and running out of water on a day that wasn't really that warm, I'm not really happy with the organization for this race. And this is the 28th running, it's not like it's a brand new race. Also, they're not exactly the only game in town. There's the Turkey Dash, which is in South Charlotte (even closer to me than Southpark) and is a 4 miler, and the University City Turkey Trot 5K (which would have been a haul for me). There's the Lake Norman 10K/5K in Cornelius that one of my co-workers runs every Thanksgiving (even more of a haul for me than University City). The point is, there are options, and honestly, if I'm in Charlotte again on Thanksgiving day, I'd rather check out one of the other races first than go back to this one.
On the plus side, the lack of organization meant that it took 5 days for them to send out an e-mail trying to get me to buy race pictures. (Even if it had been a well organized race, I'm still not buying pictures from an 8K.)
Anyway, I did manage to have fun at the race, and I ran really well, so I can't complain too much.
Vital Stats
Full Name of Race: Charlotte Southpark Turkey Trot 8K (Also included a 5K race)
Location: Morrison Boulevard near Roxborough Road, Charlotte, NC
Date and Time of Race: November 24, 2016, 9:00 AM (Actual start: 8:59 AM)
Bib Number: 2478
Official Finishing Time: 47:28, 9:33/mile. 1,491st of 2,927 Overall, 993rd of 1,379 Men, 105th of 155 in Age Group (Male 40-44)