This is one of those races where my performance is going to look better as time passes. I'm still a little bit disappointed, because I missed a PR by 14 seconds. Considering the course and how I felt out there, I did pretty well.
First, let's go back to Tuesday. I drove up to my parents' house in Greensboro (about a 2 hour drive) because I was going to take them to Raleigh for Thanksgiving at my sister's house. I brought two bags with me. For the trip from Greensboro to Raleigh, I only brought one bag. I took the contents of the two bags and only packed what I would need in Raleigh in my single bag. (I know this sounds mundane, but it will come up later.)
Wednesday morning, I drove with my parents to Raleigh. We were staying at a hotel about 5 minutes from my sister's house. I then drove over to pick up my packet at Runologie, a local running store. They gave me a bib, a t-shirt, safety pins (They were already in the bag, which is a shame, because I brought some with me), and a card advertising the Running Realtor. (Yes, really.) I'm not looking to purchase any real estate in the Raleigh area anytime soon, but OK.
The shirt looks nice.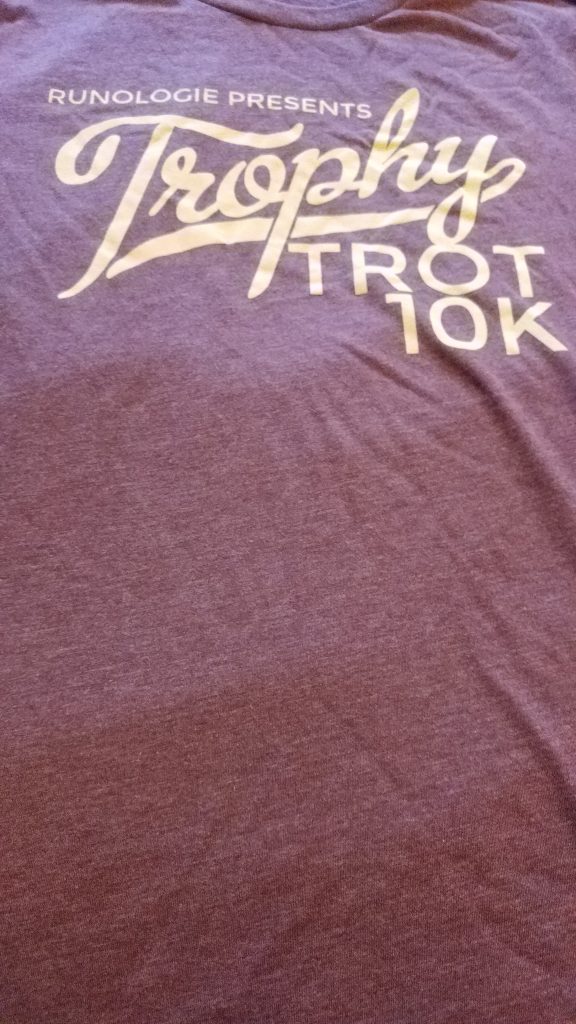 As usual, I can't get the color to show up correctly. It's more of a burgundy color than purple. The bottom of the picture is closer to the actual color than the top. Not only do I not have any other running shirts in that color, I'm not sure I have any other types of shirts in that exact color. The only problem is that it's a polyester blend and not a true tech t-shirt. Disappointing, but at least it's not 100% cotton, so I can wear it occasionally on short runs in temperate weather.
Also, I did not get my bib number before I picked it up. Before this race, every time I did a race in the Charlotte area, I didn't get my bib number in advance, but for every race outside of Charlotte, they e-mailed me my bib number before packet pickup. Now, for a race the size of New York City, you pretty much have to send out bib numbers. (I can't imagine walking up to some poor volunteer at the expo for NYC and telling them my last name is Smith.) But for smaller races, you can go either way, and it was just a bizarre coincidence that, up until this race, there was a definite split between the Charlotte area and outside the Charlotte area.
Anyway, my parents and I met my sister and her family for dinner Wednesday night. (My nephews are the best.) We went to a Japanese restaurant, which for me means sushi. Yeah, I had sushi the night before a race. I don't think it made much difference.
At the hotel, I started getting my stuff ready for the morning. I went through the one bag that I brought to get everything I would need for the morning. And this is the part where I combined two bags into one comes back. I realized that in that transfer, my watch didn't make it. Argh. I hate racing without a watch. Luckily, I had my phone, and I still have Runkeeper installed, so it would have to do.
I had a pretty rough night of sleep. I still managed to get up go through my normal routine, shower, Clif bar, water, brush teeth, use bathroom. It was slightly colder than I had hoped, around 33 when I got up, so I knew I'd have to stick to long sleeves and long pants. (I had brought a pair of shorts just in case it turned out warmer, but alas, I didn't get to wear them.)
It took me about 15 minutes to drive over to the race. They had street parking near the brewery, so I found a spot. I then got out and started a warm-up mile. It was still 33 degrees. I ran 1.01 miles, tacking on the extra .01 as usual, and I ended up with a pace of 11:01/mile, so not too bad. I then walked over to the starting area.
The race went through Dorthea Dix Park, which is the home to the North Carolina Department of Health and Human Services, so it doesn't really look like a park.
Before the race, they introduced some elites, which, for this race, consistent primarily of runners from local colleges. Someone who had just been elected to the Raleigh City Council (I didn't catch her name) pardoned a turkey, and then a guy sang the National Anthem. And wow, that guy was really good.
I did get a picture of the starting line.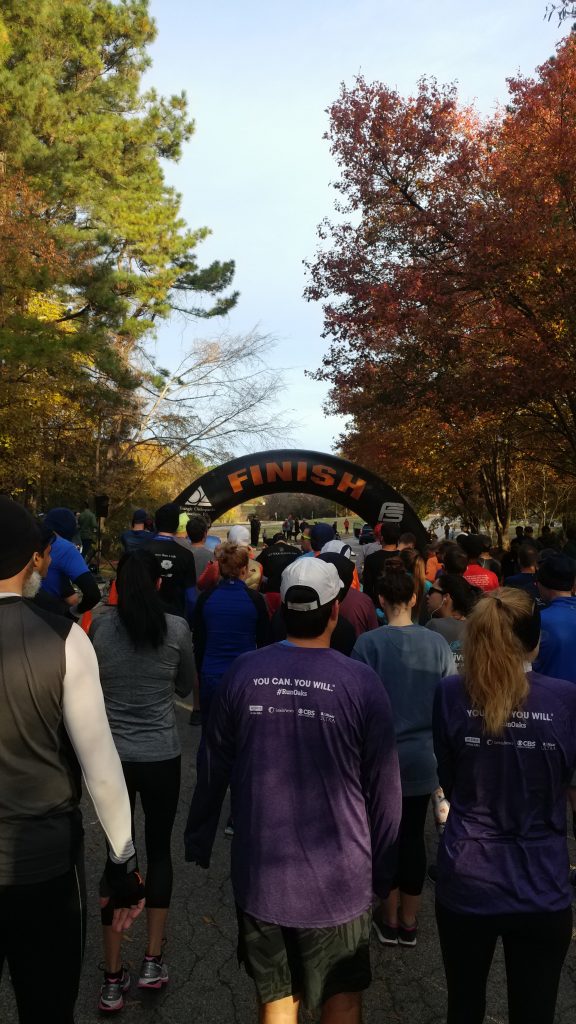 And then we were off. (It's been so long since the race that I don't remember exactly how they started the race, whether it was a countdown, or just "Ready, set, go!" or something similar. Sorry.) According to Runkeeper, we were about 4 minutes late.
Mile 1: 8:43
I left my phone in my pocket on this mile, so I didn't have a good idea of how fast I was going. I could definitely tell that this mile was primarily uphill. So when I got to the end of the mile and saw 8:43, that was not good.
At that point, I took my phone out of my pocket and kept it in my hand for the rest of the race. I don't normally like running with a phone in my hand, but I had to slow down.
Mile 2: 9:32
I may have slowed down a little too much on this mile. There were still plenty of hills.
Mile 3: 9:07
This was a pretty solid mile. The hills were still pretty killer.
Mile 4: 9:12
There was an aid station during this mile. I slowed down and grabbed some water. The turnaround was during this mile, at about the 3.8 mile mark. The course had a couple of extra loops on the "out" portion that we skipped on the "back" part, so that's why the turnaround was past the halfway point.
Mile 5: 9:12
We passed the aid station again, but this time I skipped it. Also, I remember at one point in this mile turning and hitting a downhill stretch, which was good, but also a noticeable headwind, which was bad.
Mile 6: 9:17
I was getting really tired. Those hills, man. I pushed as hard as I could.
Last 0.3: 7:32/mile pace
The last part was downhill, so that helped. It also helped that my family was there before the finish. My nephews were there too, which is awesome. They (the adult members of my family, not my nephews) even got a few pictures of me, including this one.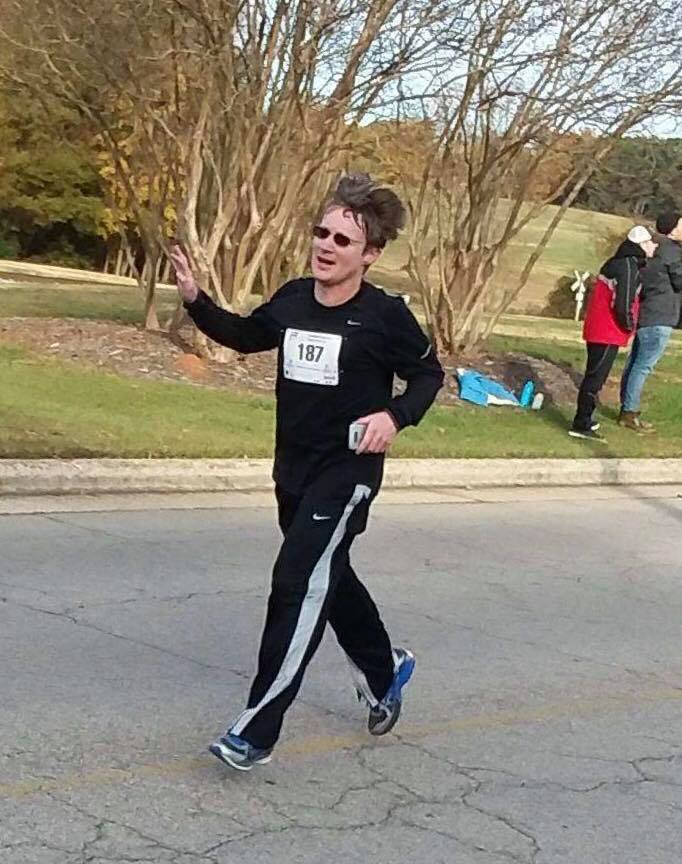 There was a similar picture that my Dad took (which I don't have in digital form), and my parents ended up putting that picture on their Christmas cards this year. I didn't expect that.
I crossed the finish line, and was pretty sure I didn't have a PR.
Right at the finish line, they had bottles of water, and…that was it. I was mildly disappointed that they didn't have some food. Luckily, I knew I'd get a beer when we got back to the tap room.
They did the old school thing of printing out results as they came in, and I got my official time, 57:18.673. So no PR, but considering the hills (and the fact that I ended up with 6.30 miles), it was still a pretty good result.
My nephews (especially my younger nephew, just under a year and a half old) were really cold, and needed to go home. My parents stuck around, and we headed over to the tap room, about a quarter mile walk, and I got my free beer. It was called Trophy Wife (which is a great name), and it was a session IPA. I'm generally not a huge fan of IPAs, but being a session IPA meant it was a little less hoppy, and after running that course, any beer would have been pretty good.
Then it was time to finally take my picture with my car key.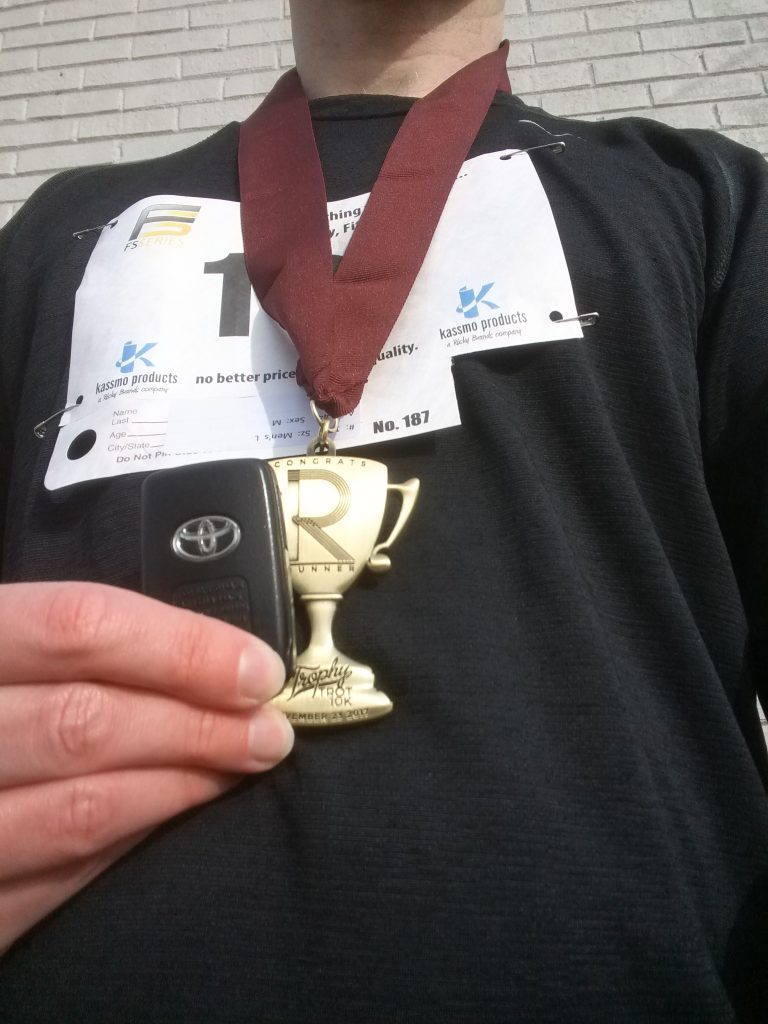 The beer ticket is missing. Priorities, man. I do like the trophy-shaped medal. And that's the front of the brewery in the background, which seemed appropriate.
So yeah, this was a really tough course, but I think I did the best I could with it. Before this year, it would have been a 10K PR, so I've definitely made some progress.
Vital Stats
Full Name of Race: Trophy Trot 10K
Location: Dorthea Dix Park, Raleigh, NC
Date and Time of Race: November 23, 2017, 8:00 AM
Bib Number: 187
Official Finishing Time: 57:18.673 chip time (57:27.460 gun time). 321st of 765 Overall, 225th of 381 Men, 31st of 60 in Age Group (Male 40-49)